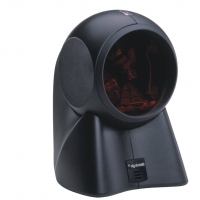 Honeywell Orbit MS7120, USB, BLACK
Artikelnummer:
HON-MK7120-31A38
Im Lager:
2 Stück
Garantie:
36 Monate
Verpackungseinheit (VE):
1 Stück
Einzelpreis:
151,05€
(incl. MwSt: 179,75€)
Listenpreis:
234,88€
(incl. MwSt: 279,51€)
Hersteller-Info:
Link
---


Honeywells Orbit MS 7120 ermöglicht schnelles omnidirektionales Scannen in einem preisgekrönten Design für Einzelhändler, die ein erschwingliches und ästhetisch ansprechendes Gerät suchen. Der Orbit als am häufigsten verkaufter freihändiger omnidirektionaler Scanner stellt eine innovative, elegante und erschwingliche Lösung dar, die für Einzelhandelsanwendungen vorteilhaft ist, bei denen begrenzter Thekenplatz ein Hauptkriterium ist.

Lieferumfang: Scanner, Anschlusskabel, Handbücher in englisch

Code-Liste des Metrologic Orbit MS 7120 MS 7180
UPC/EAN; EAN 8; EAN 13; UPC A; UPC E; Code 39; Code 39 Full ASCII; Code 128; UCC/EAN 128; PARAF Italian Pharmaceutical Code; Code 39 Trioptic; Code 39 3 Bar; Code 39 5 Bar; ITF 14;
Interleaved 2 of 5 (ITF); Standard 2 of 5; Matrix 2 of 5; MSI-Plessy 10/10 Check Digit;
MSI-Plessy Mod 10 Check Digit; Code 11; UK Plessy; Code 93; Codabar; ISBT; RSS Limited; RSS 14; RSS Expanded; RSS truncate; Postal Codes.


optionales Zubehör:
Halterung / Standfuß:

Honeywell Tisch- / Wandbefestigung - 7120, 7180
Kabel / Interface:

Honeywell Kabel KBW - 3480, 3580, 7120, 9535, 7625

Honeywell Kabel RS232 - 34x, 35x, 5145, 7120, 7625

Honeywell Kabel USB - 3480, 3580, 7120, 7180

Honeywell Kabel USB - 3480, 3580, 7120, 7180, 7625

Honeywell Kabel USB - 7120
PDF - Deutsch:

Orbit-7120.pdf
PDF - Englisch

Orbit-7120.pdf
Software / Driver:

MetroSet2Install.exe
(8,3Mb)